Other latest reports
Visitors here can find an array of publications related to productivity, competitiveness, quality and economy released by different stakeholders. You may also visit the Archives section for past publications.


Consumer Price Index 1st Quarter 2021
The Consumer Price Index, which stood at 106.1 in December 2020, registered a net increase of 2.4 points (or 2.3%) to reach 108.5 in March 2021.
The headline inflation rate for the twelve months ending March 2021 worked out to 2.2%, compared to 1.2% for the twelve months ending March 2020.
The headline inflation rate excluding "Alcoholic beverages and tobacco" for the twelve months ending March 2021 worked out to 2.3%, compared to 1.2% for the twelve months ending March 2020.
Download the report here.
World Economic Outlook April 2021
Key Highlights
After an estimated contraction of –3.3 percent in 2020, the global economy is projected to grow at 6 percent in 2021, moderating to 4.4 percent in 2022.
Mauritius- GDP is expected to grow at 6.6 percent in 2021 after a contraction of -15.8 percent in 2020.
Future developments will depend on the path of the health crisis, including whether the new COVID-19 strains prove susceptible to vaccines or they prolong the pandemic; the effectiveness of policy actions to limit persistent economic damage (scarring); the evolution of financial conditions and commodity prices; and the adjustment capacity of the economy.
Policy priorities
Countries will need to tailor their policy responses to the stage of the pan[1]demic, strength of the recovery, and structural characteristics of the economy.
Once vaccination becomes widespread and spare capacity in health care systems is generally restored to pre-COVID-19 levels, restrictions can begin to be lifted.
Then, as the recovery progresses, policy-makers will need to limit long-term economic scarring with an eye toward boosting productive capacity (for example, public investment) and increasing incentives for an efficient allocation of productive resources.
All the while, long-term challenges—boosting productivity, improving policy frameworks, and addressing climate change—cannot be ignored.
The international community also needs to work together to ensure that financially constrained economies have adequate access to international liquidity so that they can continue needed health care, other social, and infrastructure spending required for development and convergence to higher levels of income per capita.
Download the report here.

Global Gender Gap Index 2021
Highlights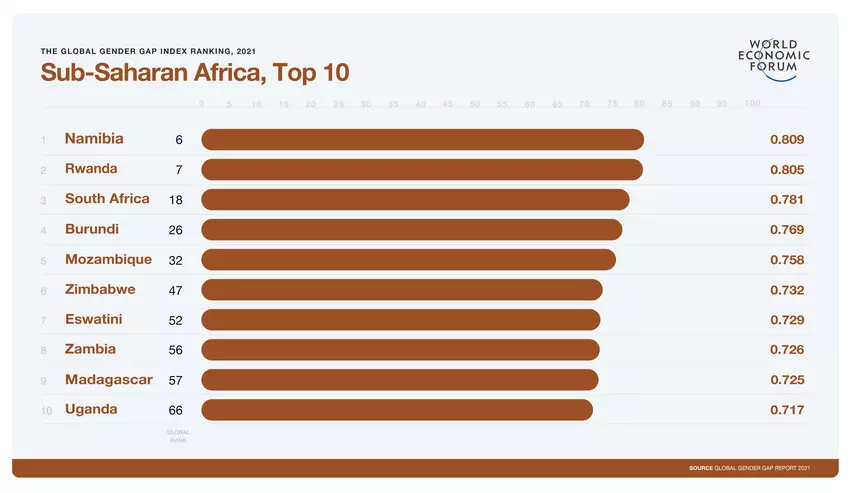 The Global Gender Gap Index benchmarks the evolution of gender-based gaps among four key dimensions (Economic Participation and Opportunity, Educational Attainment, Health and Survival, and Political Empowerment) and tracks progress towards closing these gaps over time.
This year, the Global Gender Gap index benchmarks 156 countries, providing a tool for cross-country comparison and to prioritize the most effective policies needed to close gender gaps.
Mauritius ranks 110 out of 156 countries.
Only 52.8% of women are in the labour force.
Download the report here.
Download the extract for Mauritius here.

Export Oriented Enterprises (EOE)
Key highlights
EOE consist of enterprises previously operating with an EPZ Certificate as well as enterprises manufacturing goods for exports and holding a registration certificate issued by the ex-Board of Investment.
Compared to the third quarter of 2020, total employment in EOE decreased by 3,861 (-9.5%) from 40,597 to 36,736. Some 4,405 jobs were lost due to the contraction of workforce and closure of enterprises whilst 544 jobs were created due to expansion in existing enterprises. Employment of Mauritians went down by 2,431 (-11.3%) from 21,551 to 19,120 and that of foreign workers decreased by 1,430 (-7.5%) from 19,046 to 17,616.
EOE exports during the fourth quarter of 2020 amounted to R 11,088 million, 3.2% lower compared to the third quarter of 2020 and 10.4% higher compared to the fourth quarter of 2019. EOE imports during the fourth quarter of 2020 amounted to R 5,940 million, 11.0% higher than the third quarter of 2020 and 1.9% lower than the fourth quarter of 2019. (Source: Statistics Mauritius)
Download the analysis here.
Download the tables here.

Macro Poverty Outlook (MPO) Mauritius


Download the report here.
More Reports

Worldwide Cost of Living 2020-How is Covid-19 affecting the prices of consumer goods?
Global Economic Prospects - January 2021
Global Economic Prospects January 2021 Regional Overview
World Happiness Report 2021
Monitoring the Socio-Economic Effects of COVID-19 on Mauritian Households – Dec 2020
Quarterly National Accounts 4th Quarter 2020

2020 Ibrahim Index of African Governance
How do Mauritians feel about their health
Regional Economic Outlook Sub- Saharan Africa Oct 2020
World Economic Outlook Future of Jobs 2020
Consumer Price Index 3rd Quarter 2020
World Economic Outlook 2020
Monthly External Merchandise Trade Statistics - July 2020
Global Innovation Index 2020
Population and Vital Statistics - Jan - Jun 2020

Regional Model Code on Anti Corruption Compliance for Enterprises
Global Productivity: Trends, Drivers, and Policies-World Bank 2020
Road Transport and Road Traffic Accident Statistics - January – June 2020
External trade-2nd Quarter 2020

Covid-19 and Transforming Tourism
Monitoring the Socio-Economic Effects of Covid-19 on Mauritian Households
Gender Statistics 2019
MCB Focus - Mauritius Inc.: Transitioning to a green economy
Productivity and Competitiveness Index 2009-2019
A Crisis Like No Other, An Uncertain Recovery
How COVID-19 is changing the world: a statistical perspective (April 2020)
COVID-19 pandemic and its economic impacts across Africa (Mauritius) (April 2020)
First comprehensive survey on the COVID-19 pandemic and its economic impacts across Africa (April 2020)