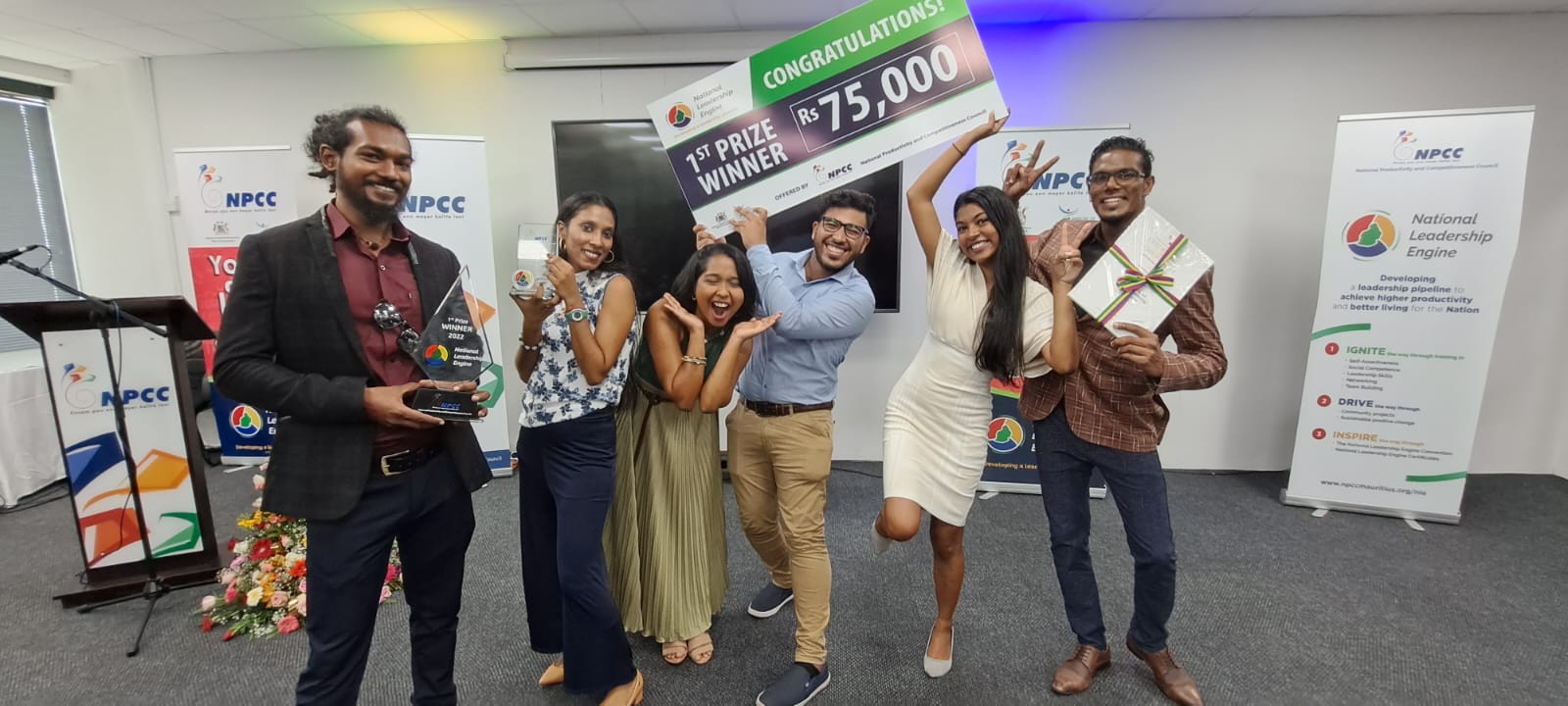 Kudos to NLE 2022 winners!
Ebène, 21 January 2023: The fourth edition of the National Leadership Engine (NLE) project culminated on Saturday with a National Convention during which the grand winner and the two runner up projects were announced.
The winners are as follows:
Grand Winner: Nu-Nat-li project - use of locally sourced raw materials - vacoas - with low CO2 footprint and biodegradable - to design and create new-end products - Grand Port region
Second Winner: SoilStrong project - to bolster the image of the farmer from 'planter' to 'food hero' - Moka region
Third Winner: SaVer Banane - production of banana flour - Savanne region
NLE 2022 was organised by the NPCC in collaboration with the Ministry of Youth Empowerment, Sports and Recreation. The project aims at creating a pipeline of leaders to achieve higher productivity and better living for the nation.
More than 200 youth enrolled for the training in the following regions namely, Riviere Noire, Upper Plaines Wilhems, Lower Plaines Wilhems, Port Louis, Pamplemmousses, Flacq, Riviere du Rempart, Grand Port, Savanne et Moka.
Youth aged 16 and above were empowered with personal and social competences which they had to demonstrate by conceptualising and implementing community-based projects in their locality. The training for youth was completed in September 2022, followed by regional assessments of projects and a national assessment that were held in October and November 2022 respectively. A total of 30 community based projects were presented in NLE 2022. The projects focused on a range of issues pertaining to the environment, animal rights and mental health amongst others.
The Executive Director of the NPCC, Mr. Ashit Gungah, stressed on the importance of keeping the right balance when it comes to our personal, professional and social life in his opening remarks. He also exhorted the youth to take initiatives to fight the drug scource in Mauritius and network among themselves to find sustainable solutions to the challenges in the areas of climate change, geopolitical tensions, health and environment.
"The NLE project empowers young people not only to help them stay away from the drug scourge, but also allow them to come up with solutions to prevent other young people from becoming prey to drugs. Moreover, it is a matter of great satisfaction that the NLE Action Drivers (NLEAD) is a reality today. The objective of the NLEAD is to offer a platform to all NLE participants to develop and demonstrate their leadership skills", he pointed out.
The Minister of Industrial Development, SMEs and Cooperatives, Honorable Soomilduth Bholah, explained how the Ministry is sparing no efforts to encourage young people to embark on a journey of entrepreneurship. He cited areas such as Information and Communication Technology, renewable energy, agriculture as well as artificial intelligence where young people can get involved as entrepreneurs.
"We need our youth to be imbibed with an innovative mind-set to create a new generation of entrepreneurs. Moreover, I commend the determination of our youth to develop solutions in their own ways to tackle issues in the society", Honorable Bholah affirmed.
The NLE 2022 Convention was also marked by an online motivational speech by Mr. Marius Frey, a swiss expert in the field of innovation and coach. Mr. Frey spoke about the importance of servant leadership. The servant leadership style is based on the idea that leaders prioritise serving the greater good. Leaders with this style serve their team and organisation first.

Click here to view the NLE 2022 Convention photo album.
NLE 2022 clip

Motivational Speech by Mr. Marius Frey

NLE Convention 2022 in the media

National Leadership Engine Convention _ les jeunes sont les agents du changement, selon Sunil Bholah (Radio One 21.01.23)
Mauritius Concludes 4th Edition of National Leadership Engine (News Invasion 24 25.01.23)
National Leadership Engine _ Les meilleurs projets nationaux récompensés (ION News 25.01.23)
National Leadership Engine_ The best national projects rewarded (Mauritius News 25.01.23)
NLE 2022 _ Best National Projects Are Nu-Nat-Li And SoilStrong (Le Matinal - EN - 25.01.23)
NLE 2022_ Les Meilleurs Projets Sont Nu-Nat-Li Et SoilStrong (Le Matinal - FR - 25.01.23)
Les meilleurs projets annoncés lors de la Convention Nationale (Le Xournal 28.01.23)
Les meilleurs projets annoncés lors de la Convention Nationale du National Leadership Engine (Maurice Info 27.01.23)
National Leadership Engine project_ Winners of the contest receive their rewards (GIS 25.01.23)